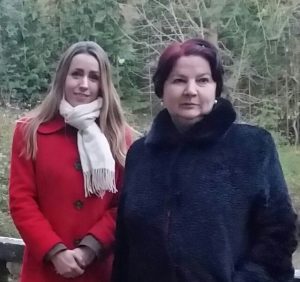 Her Highness Duchess Olga today attended the annual meeting of the Mecklenburg-Strelitz Cultural Heritage Society at the Cultural Quarter in Neustrelitz, followed immediately by an event commemorating the historic ties between Mecklenburg-Strelitz and Montenegro.
Joining Her Highness and the other guests in Neustrelitz was the Ambassador of Montenegro to Germany, His Excellency Dr. Ranko Vujačić, who opened the event with a welcome speech, which was followed by a screening of the short film "Montenegro".
Following the screening the Kotor based historian Dr Neda Donat delivered a lecture on the life, works and diplomatic connections of Duchess Jutta, who upon her 1899 marriage and conversion to the Orthodox faith became Princess Militza of Montenegro, as the wife of Prince Danilo the son and heir of the Sovereign Prince (from 1910 King) Nikola.
During the First World War, Princess Militza and the Royal Family went into exile following the occupation of the country by Austria-Hungary. They were never to return as the Montenegro was incorporated into the new Kingdom of Serbs, Croats and Slovenes (later called Yugoslavia) at the end of the conflict in 1918. On the death of King Nikola on 1 March 1921, Prince Danilo and Princess Militza became King and Queen in exile before her husband abdicated after a week in favour of his nephew Prince Mihajlo.
The present head of the Royal House of Montenegro is HRH Crown Prince Nikola a great nephew of Prince Danilo and Princess Militza. His grandfather Prince Mirko was a recipient of the Mecklenburg-Strelitz House Order of the Wendish Crown, while Princess Militza's grandfather Grand Duke Friedrich Wilhelm, father Grand Duke Adolf Friedrich V and brothers Grand Duke Adolf Friedrich VI and Duke Carl Borwin were all recipients of Montenegrin royal orders. More recently in June 2014 at Bernadotte Art Awards in Stockholm, Duchess Olga, along with her parents The Duke and Duchess and brother Duke Michael met Crown Prince Nikola and his daughter Princess Altinaï during the event at which both families were guests.